Garden Lawn Water Sprinklers Type
2016-01-05 19:37:34 Click Count: 1645
Outdoor Water Lawn Sprinklers is more and more popular because of water automaticly and low cost.Compare with water spray gun,sprinkler can water itself after turn on water,people do not take it as spray gun,and it can water big area itself.The water also fall as rain uniform.So the water can give enough water to tree,grass,lawn,flower,seed and more.
In generaly,outdoor water lawn sprinklers have some below type:
1. Crazy Water sprinkler.It is decorate sprinkler.When the water turn on,the flower sprinkler will shake crazyly without any another power,but it is not regular.some people say it is lovely,some people say it is dangerous.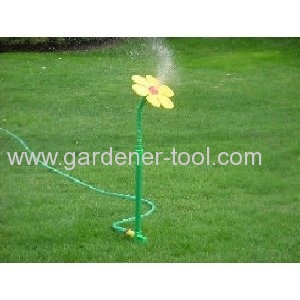 2, Impulse Rotary Sprinkler.This sprinkler can be used in many area,and can water big area.Now in many big farm,impulse rotary sprinkler is very popular and give very big help.
3, Stationary sprnkler.it have many types,some same as impulse rotary sprinkler.Usual it have one base,this base been moved or not moved.but it have steady base for fixing sprinkler.