Garden water sprayer
2013-11-21 18:58:58 Click Count: 1961
Garden water sprayer is very usful in garden and agriculture work,you can use it as chemicals,fertilizers,pesticides,only irrigation,car wash and more.Currently garden water sprayer is manual pump-action sprayer,people must pull and push the pump by hand to increase the air pressure in the tank,make the pressure to disperse the contents of the tank,one garden hose joint tank and one hose nozzle at the other end of hose make it easy to distribute the water where you want.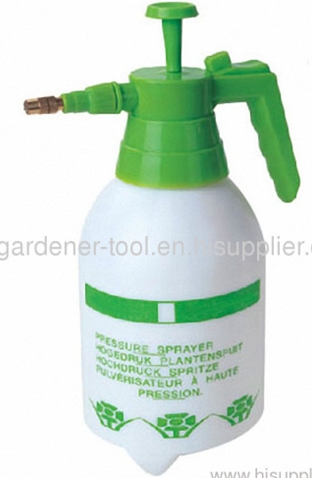 Currently on the market,the garden water sprayer have 0.5L,1L,2L,3L,5L,8L and 12L,different capacity garden water sprayer can satisfy with different water need.In general,the tank of garden water sprayer is transparent white with graduation,people can adjust the water capacity in the tank as per the graduation on the tank to naked eyes.Then use the manual air pump to increase water pressure in the tank,it can force the water out through the hose and spray nozzle.There is one valve on the spray nozzle,it can help you to control water on/off,adjust the head of spray nozzle,you can adjust the water pattern from mist fine to powerful cone.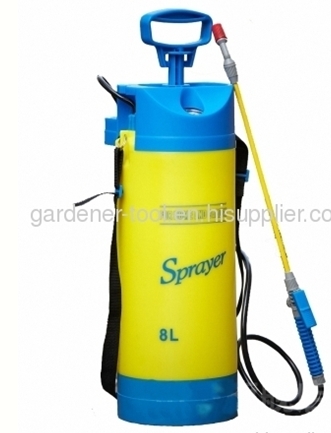 The garden water sprayer is multifunction, including liquid fertilizers, insecticides and other chemicals used in the garden.Another you can use this garden water spray around home include applying detergents and cleaners to large area before use high water wash. Besides for garden and cleaning projects, you use the sprayer to apply water proofers and sealers to decks, fences and concrete patios and paths.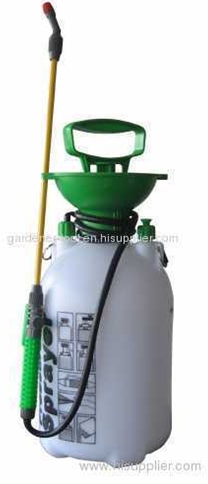 Use correctly method to care and maintenance garden water sprayer,it can keep the sprayer work well,and keep it same as new,also can extent its life.For us,we can pay some money to buy new one,it is not high cost,but we are really no time to buy new one.Never leave unsed chemicals,fertilizers or other liquids in the tank after used.Rinse the sprayer tank,hose,nozzle and pump with clear water before stock.Use the manufactory recommended procedures for pump lubrication and care.
Follow the manufacturer's instructions and warnings carefully for proper mixing methods and ratios. Never mix or use flammable solutions in a garden sprayer. Wear protective eyewear and gloves when spraying chemicals, pesticides and fertilizers. Avoid over-pumping the sprayer to prevent damage and possible injury. Release all pressure from the sprayer before removing the cap.

Also you must be careful when you use garden water sprayer.please pay more attention on the following item to prevent you far away from dangerous when you use garden water sprayer.Operate it as per the manufactory's manual and warning carefully when mix method and ratios.Never mix or use flammable solutions in the garden water sprayer.Must wear protective eyewear and gloves when spraying chemicals,pesticides and fertilizers.Avoid over-pump the spray to prevent damage and possible injury.Release all pressure from the tank before removing the cap for stock