Garden Oscillating Sprinkler Water Spray Area Adjustment
2013-12-25 20:11:32 Click Count: 1970
Garden Water Lawn Sprinkler have many types as flower sprinkler,impulse sprinkler,stationary sprinkler,telescopic sprinkler and more.As my preferences,I'd better to use oscillating sprinkler to water my small yard or small garden.
Garden oscillating sprinkler can spray water back and forth because of water pressure,even if low water pressure.No matter what material base,there is one bar installed on the base for spray water.On the bar,there is several holes for spraying water out over a area forth and back.Important it is easy to adjust the water area to keep only irrigate the are you want.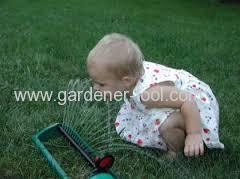 1,Place the garden oscillating sprinkler at the middle of garden,grass,lawn and another area you want to water.
2,Joint the garden oscillating sprinkler to the hose,turn on the water,the water can be sprayed out from hole of bar,note how far the water spray or the water cover.
3, Turn off the water.Go to move the place the garden oscillating sprinkler,make it spray water cover the area we want to water.
4,Turn the adjustment knob to adjust the water spray area,only spray water left area or right area,or spray water both area,also can adjust the water cover area far or near.