Car Wash At Home Cheaply
2013-11-15 10:24:14 Click Count: 1857
Our Car should be washed once within one week for keeping the car shiny and protect car from acid water from rain.One of my russia customer tell me that they must wash car once about three days in spring or fall season.If going to the car wash this often can quickly get expensive,example as russia again,you must pay about 15 dollars to wash car once.So more and more people prefer car wash more cheaply at home.Use professional tools,you can wash a car easy and quick at home,do not worry big labour and tired.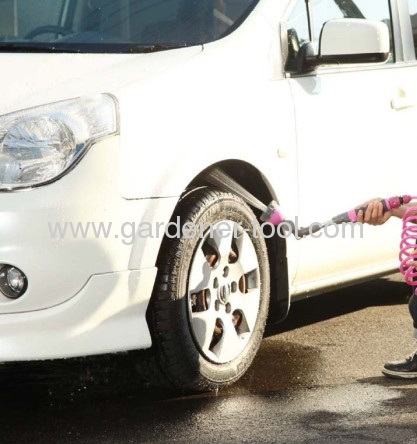 1, Park your car on the one site where is far away from pudding,and far away what thing you do not want to wet it.My garden is concrete floor,I'd like to wash floor first,then park the car on that.

2, Get one garden water hose pipe,joint this garden hose to water source to get water.then choose one garden spray nozzle to spray water in various of water pattern.Now we'd like to introduce soap garden want wand,it can spray water patter same as normal garden hose nozzle,special it can spray water with soap,and long body make sure you can spray water to any site you want.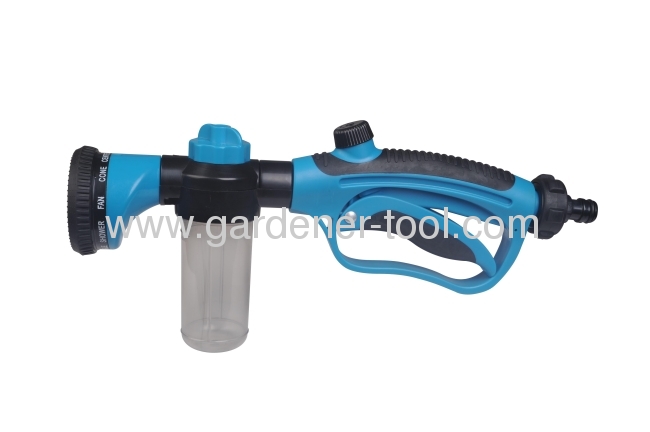 3, Turn on the water and begin the water.In general,I'd like to use full or centre pattern at the hose nozzle to wet the whole car body.Then use powerful stream pattern to dislodge dust and fine-grained sand and dirt.Then spray soap on the car.

4, Use soft towel to wash car,this process need labour.If you want to save labour,you also can use telescopic car care brush to wash it.

5, After that,you use garden hose nozzle to wash car again, to wash the soap and another dirty on the car,then use one clean and dry towel to dry car.

6, As is better,you can use wax to coat on your car,it will protect your car better,and keep this wash achievements for long time.